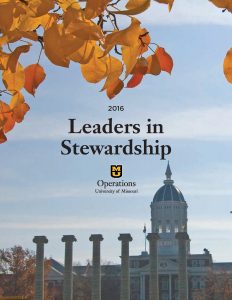 A Selection of Stories
Recent Accomplishments
As of July 2016, the campus has achieved a 51 percent reduction in greenhouse gas emissions from the 2008 emissions baseline.
Renewable Energy
MU's renewable energy portfolio of biomass, wind and solar has now reached 34% of total campus energy use.
Recently, the EPA's Green Power Partnership listed the University of Missouri No. 4 in its Top 30 On-site Generation list. At No. 4, Mizzou was behind only Walmart, Apple and the U.S. Department of Energy.
The biomass combined heat and powersystem is not only providing MU with sustainable steam and electricity, but the funds were re-invested back into our local economy, providing economic-development benefits. MU purchased more than 108,000 tons of wood mill residues in fiscal year 2016, investing $3.57 million back into the local economy.
Energy Conservation
Energy conservation efforts continue to reduce energy costs and emissions for MU. Energy reduction has reached 21 percent per square foot with an annual cost avoidance of $9.1 million for Educational & General buildings. Cumulative cost avoidance has reached $78.1 million since formal energy conservation began in 1990.
A project to upgrade energy controls in Lewis Hall is almost complete, with most of the facility using more efficient energy controls. Continuing on the success of converting Conley Avenue Garage to LED lighting last year, Campus Facilities Energy Management and Facilities Operations partnered together to re-lamp the Turner Avenue Garage (TAG) with LED lighting. A total of 531 dim, high-pressure sodium fixtures were replaced with 372 bright and efficient LED fixtures. Metering data is demonstrating a 65 to 70 percent reduction in electricity use for TAG. The garage now is a better-lit environment, and there are expected maintenance savings from fewer bulb replacements. A plan to re-lamp an existing academic building with LED lighting in 2017 is under evaluation.
Energy Strategies Student Advisory Group Update
The Energy Strategies Student Advisory Group (ESSAG) submitted a recommendation letter to Gary Ward, Vice Chancellor for Operations, highlighting several energy conservation, renewable energy and education and awareness suggestions to pursue or further investigate. The letter was forwarded to the campus Environmental Affairs and Sustainability Committee (EASC) for its input and action. Several ESSAG members attended an EASC meeting to share ideas drafted in their recommendation letter. The group continues its energy advisory work and is focusing much of its attention to help increase renewable energy and sustainability.